RUCKUS ICX 7750 Switches Features
The RUCKUS ICX 7750 delivers chassis performance in the network's aggregation and core switching operations. The switch's premier speed and reliability in a flexible scale-out design enables a small deployment to add capacity as needs grow and deliver mission critical application services with complete confidence.

The ICX 7750 provides the capabilities of a chassis with the flexibility and cost-effectiveness of a stackable switch. The switch delivers faster network response time via wire-speed, non-blocking performance across all ports to support latency-sensitive applications such as real-time voice or video streaming and Virtual Desktop Infrastructure. Up to 12 ICX 7750 switches can be stacked together to provide terabytes of aggregated stacking bandwidth with full redundancy, eliminating inter-switch bottlenecks.
Industry-leading 10/40 Gbps Ethernet port density and flexibility
Up to 32x40 GbE or 96x10 GbE ports per unit
Up to 5.76 Tbps of aggregated stacking bandwidth with full redundancy
Up to 10km between stacked switches
6 full-duplex 40 Gbps stacking ports per switch
Software updates without downtime with In-Service Software Upgrades (ISSU)
Instantaneous hitless failover
Redundant power supplies with hot-swappable, and load-sharing capabilities
Flexible distributed chassis stacking architecture
Start small and add capacity via stacking as needs grow
1U form factor saves rack space and power in wiring closets
Works seamlessly with RUCKUS Wi-Fi access points
With RUCKUS SmartZone support delivers unified wired & wireless management
Your web browser (Internet Explorer 11 or lower) is out of date and the functions below will not work with Internet Explorer.
Update your browser for more security, speed, functionality and experience on this site.
Specifications for RUCKUS ICX 7750 Switches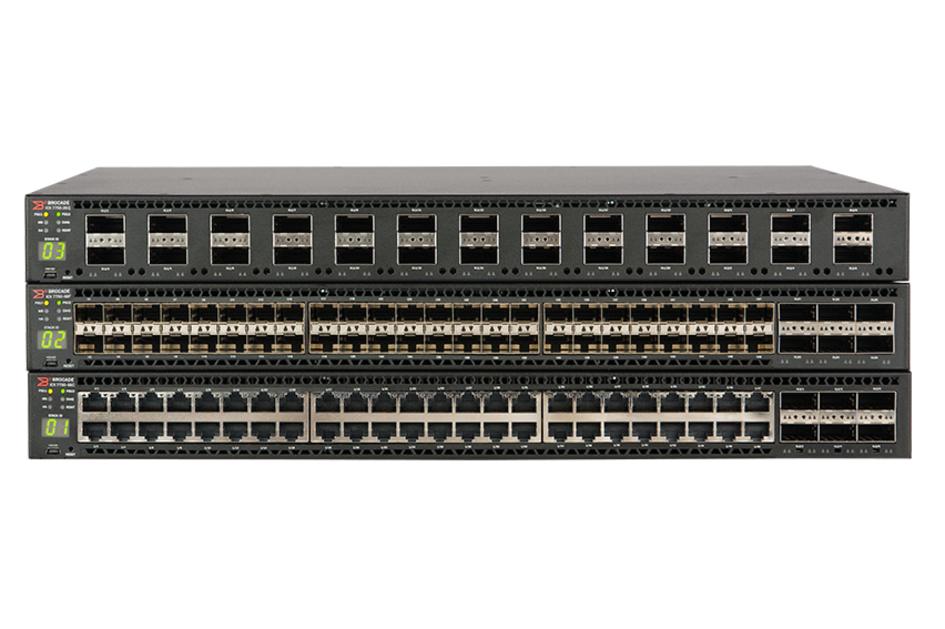 Product Classification
| | |
| --- | --- |
| Regional Availability | Asia | Australia/New Zealand | EMEA | Latin America | North America |
| Product Type | Ethernet switch |
| Product Brand | RUCKUS® |
General Specifications
| | |
| --- | --- |
| Switching Capacity, maximum | 2560 Gb/s |
| 1 GbE RJ45 Ports, quantity, maximum | 48 |
| 1 GbE SFP Ports, quantity, maximum | 48 |
| 10 GbE SFP+ Ports, quantity, maximum | 96 |
| 10 GbE RJ45 Ports, quantity, maximum | 48 |
| 40 GbE QSFP Ports, quantity, maximum | 32 |
| Switches per Stack, maximum | 12 |
| Aggregate Stack Bandwidth, maximum | 5760 Gb/s |
| Stacking | Yes |
| sFlow | Yes |
| Layer 3 (STATIC, RIP, OSPF) | Yes |
| OpenFlow with Hybrid Port Mode | Yes |
| Campus Fabric Technology | Yes |
| Redundant Power Option | Yes |
| Hot Swap Internal Power Supplies & Fans | Yes |
| VRF | Yes |
| BGP | Yes |
| Reversible Airflow Option | Yes |
| VxLAN | Yes |
Product Downloads and Links
Related Resources
Technical Publication
Warranty