AI-driven cloud platform for service assurance and business intelligence
RUCKUS AI delivers robust service assurance for IT and business intelligence to line-of-business stakeholders to help you get the most from your enterprise network. Powered by artificial intelligence (AI) and machine learning (ML) algorithms, this cloud service simplifies life by automatically classifying service incidents by severity—tracing root causes and recommending steps for remediation. RUCKUS AI enables line-of-business stakeholders to define and monitor business key performance indicators (KPIs) for better business outcomes.
Know what issues to address first with automatic classification of service incidents
Like most network admins, Jim would use numerous tools, consoles and management systems to manage and troubleshoot the network. Then, he and his team migrated to a RUCKUS network and RUCKUS AI cloud service. Now Jim can focus on what's important. Take a look.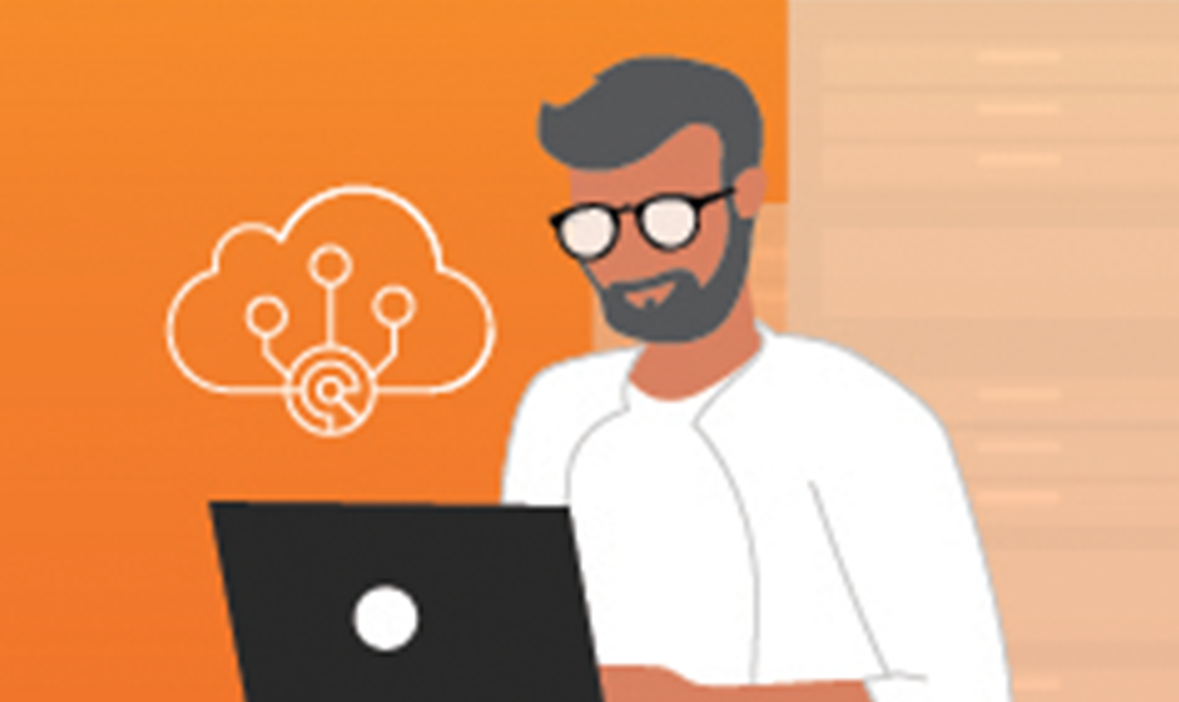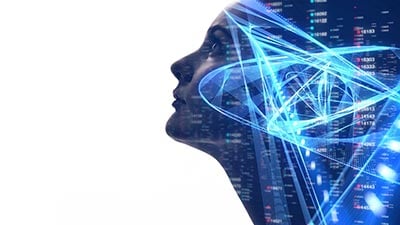 Get fast answers on network operations with your own virtual network assistant
The Melissa™ virtual network assistant is an AI-driven tool for answering a wide variety of queries about network operations. It uses natural language processing to determine the meaning of inquiries and provides insightful responses.
Explore the RUCKUS AI Dashboard
In this walkthrough, we demonstrate key features of our cloud service for network analytics and assurance. It covers modules that include the top-level dashboard, network health monitoring, incident analytics, client troubleshooting and more.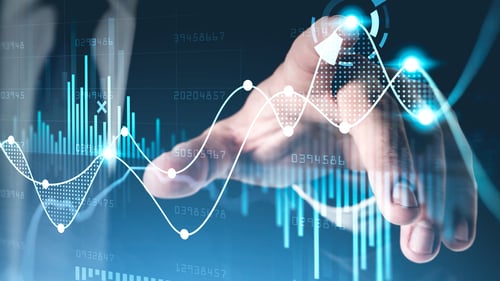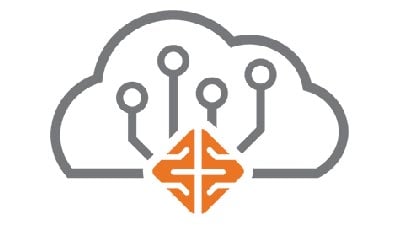 Discover incident analytics powered by ML and AI
RUCKUS AI automatically establishes a normal range of behavior for each network element, without requiring any input from IT. Then, it uses ML to identify service incidents related to connectivity, performance and infrastructure that affect user experience. Watch our demo to see how AI addresses service incidents by severity—so you can address the highest priority issues first.
The simplest way to monitor your network health
RUCKUS AI routinely monitors network health, with an overview tab that provides a high-level summary view. Select other health monitoring tabs to view metrics in specific health categories: connection, performance and infrastructure. Network health monitoring gives you instant visibility into metrics like AP service uptime, time to connect, connection success rate, client throughput and more.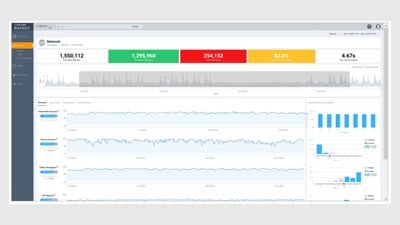 What customers are saying about RUCKUS AI
ASM Global / City of Oklahoma City Chesapeake Energy Arena/Cox Convention Center
​"RUCKUS Analytics has significantly improved our ability to monitor and maintain exceptional Wi-Fi service quality during events at both venues. The ability to customize our own dashboard and reporting has been invaluable for insight into network behavior. The troubleshooting capability lets us drill down to the client level—enabling us to quickly resolve service-affecting issues."
Chris Nelson, Manager, Information Technology
Mandarin Oriental Hotel Group
"When we started using RUCKUS Analytics at one of our flagship hotels, we immediately discovered new, potentially service-affecting issues that made us rethink some of our design assumptions. Once we made network adjustments, we were able to instantly observe the impact of those changes, right from our desks. Before, we would have been walking the hallways, then going back to make adjustments, then walking the hallways again. This has helped us to improve our productivity tremendously."
Javier Garcia, Director of Global Infrastructure
Wifirst
"As a service provider with high skill in WLAN networks, our success depends on meeting customer SLAs and efficiently managing to those SLAs. That means quickly addressing issues that arise in a network. Unfortunately, it's often difficult to pinpoint the exact cause. We were facing just such a scenario and, during weeks of troubleshooting remotely and on-site, we struggled to find the root cause. Turning on RUCKUS Analytics leads us very quickly to a potential problem on another element in network infrastructure causing roaming issues. This new tool makes our support operations dramatically more efficient."
Emeric de Bernis, Engineering Manager
Vector Tech Group
"[When] I use, and my team of engineers uses, RUCKUS Analytics to tie into customer deployments…our mean time to resolution is a third of what it used to be."
Jon Novakowski, Chief Visionary Officer and Co-owner
Watch video
Related Content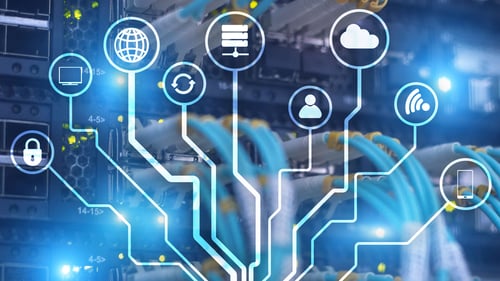 Network Computing: How Incident Analytics-Based ML and AI Makes Life Easier for Enterprise IT
There are four elements of modern incident analytics: identifying service incidents, classifying them by severity, tracing root causes, and recommending steps for remediation. Learn how recent advances in incident analytics that leverage ML and AI help IT be much more efficient in making sure end users get the connectivity experience they expect.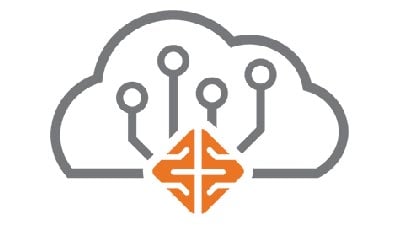 RUCKUS AI data sheet
RUCKUS AI is an AI-driven cloud platform for service assurance and business intelligence. It provides comprehensive visibility into network operations and accelerates troubleshooting for RUCKUS enterprise networks. RUCKUS AI enables line-of-business stakeholders to define and monitor business KPIs.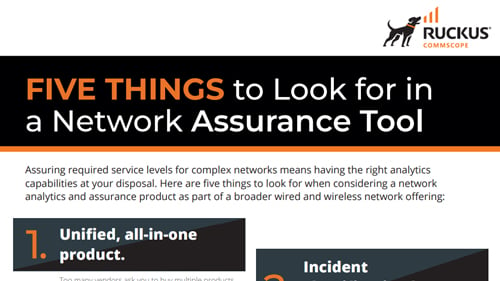 Five Things to Look for in a Network Assurance Tool
Assuring required service levels for complex networks means having the right analytics capabilities at your disposal. Here are five things to look for when considering a network analytics and assurance product as part of a broader wired and wireless network offering.
RUCKUS AI product demonstration
This on-demand webinar provides a product overview of RUCKUS AI, an AI-driven cloud platform for service assurance and business intelligence.
Watch webinar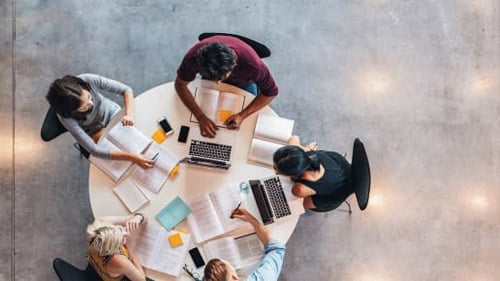 RUCKUS AI: A great fit for higher education
IT teams in higher education often lack the level of staffing seen in corporate environments, so efficiency is critical. Network admins must use multiple data sources, manual processes and lots of guesswork to determine the root causes and troubleshoot connectivity issues. Lack of visibility into network operations is a major inhibitor to IT effectiveness.
Solving the service assurance challenge for the hospitality industry
If a guest has a problem, they go to the front desk. They refer the problem to the IT help desk. Without the proper tools for network intelligence and service assurance, each issue requires manual investigation by one or more team members. Imagine how much time and money could be saved if there was a system that provided actionable intelligence—one that told you exactly what was wrong and how to fix it. Introducing RUCKUS Analytics.
You won't believe how simple it is to use until you experience it for yourself.
See for yourself how RUCKUS AI delivers service assurance and business intelligence. If you're a current SmartZone™ customer, ask for your free trial or live online demo with a product expert.