RUCKUS ICX 7650 Switches Features
The RUCKUS ICX 7650 Switch is designed to meet the new challenges of the multi-gigabit wireless era. It delivers non-blocking performance, high availability, and scalability with multi-gigabit Ethernet access (2.5/5/10GbE), high PoE output with 802.3bt** support as well as 10 Gigabit Ethernet Aggregation and 40/100GbE uplink options.

The ICX 7650 is an ideal solution for future proof campus edge deployment as an underlay to support the most demanding next generation wireless infrastructure. Additionally the fiber version of the switch delivers a highly cost effective medium density 1/10GbE aggregation solution with 24 SFP & 24SPF+ ports and 40/100GbE uplinks.

The ICX 7650 supports Ruckus Campus Fabric* as a Control Bridge (CB) delivering unmatched flexibility, scalability and simplified management for campus network deployments.

**Up to 90W per port, IEEE 802.3bt standard pending ratification. Compatible with uPoE.
Up to 24x 1/2.5/5/10G multi-gigabit Ethernet ports
Up to 2x 100GbE uplink or stacking ports
Up to 2x 40 GbE uplink or 4x 40GbE stacking ports
PoE+/802.3bt** up to 90W per port
Up to 1500W PoE budget with two power supplies
Dual load sharing power supplies for system power redundancy
Redundant uplink/stacking ports
Instantaneous hitless failover to a standby controller
Stack level ISSU for continuous operations
Hot-insertion/removal of stack members to avoid service interruption
IPv4 and IPv6
BGP, OSPF, VRRP, PIM, PBR
VRF
MCT (available in a future software release) RUCKUS SmartZone support delivers unified wired & wireless management and network automation
Works seamlessly with RUCKUS Wi-Fi access points
RUCKUS SmartZone and RUCKUS Cloud support delivers unified wired & wireless management
Your web browser (Internet Explorer 11 or lower) is out of date and the functions below will not work with Internet Explorer.
Update your browser for more security, speed, functionality and experience on this site.
Specifications for RUCKUS ICX 7650 Switches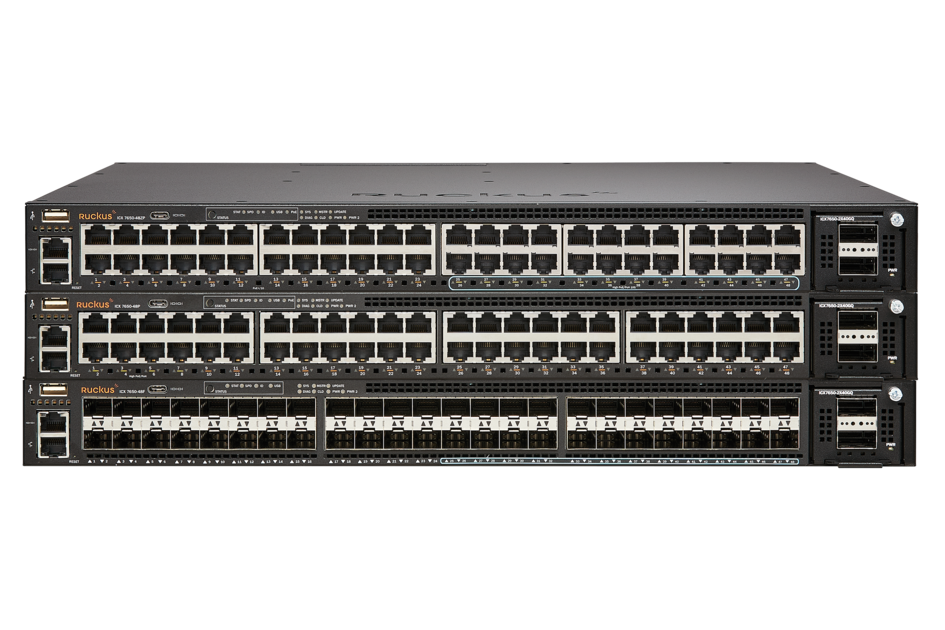 Product Classification
| | |
| --- | --- |
| Regional Availability | Asia | Australia/New Zealand | EMEA | Latin America | North America |
| Product Type | Ethernet switch |
| Product Brand | RUCKUS® |
General Specifications
| | |
| --- | --- |
| Switching Capacity, maximum | 1128 Gb/s |
| 1 GbE RJ45 Ports, quantity, maximum | 48 |
| 1 GbE SFP Ports, quantity, maximum | 24 |
| 10 GbE SFP+ Ports, quantity, maximum | 24 |
| 1/2.5/5/10 GbE RJ45 Ports, quantity, maximum | 24 |
| 40 GbE QSFP Ports, quantity, maximum | 2 |
| 100 GbE QSFP28 Ports, quantity, maximum | 2 |
| PoE Power Budget, maximum | 1500 W |
| Switches per Stack, maximum | 12 |
| Aggregate Stack Bandwidth, maximum | 2400 Gb/s |
| PoE/PoE+ | Yes |
| Stacking | Yes |
| sFlow | Yes |
| Layer 3 (STATIC, RIP, OSPF) | Yes |
| OpenFlow with Hybrid Port Mode | Yes |
| Campus Fabric Technology | Yes |
| Redundant Power Option | Yes |
| Hot Swap Internal Power Supplies & Fans | Yes |
| 802.3bt2 (90 W PoE Power per Port) | Yes |
| VRF | Yes |
| EEE (Energy Efficient Ethernet) | Yes |
| MACsec | Yes |
| BGP | Yes |
| Reversible Airflow Option | Yes |
| VxLAN | Yes |
Product Downloads and Links
Related Resources
Technical Publication
Warranty