RUCKUS ICX 7450 Switches Features
The RUCKUS ICX 7450 delivers unprecedented scale-out density with enterprise-class availability. With SDN support, a service module for IPsec VPN, and 40 GbE ports for uplinks all in a stackable design, these switches enable services to be added anywhere in the network.

The ICX 7450 is an ideal network solution for campus networks requiring 1 GbE access or small aggregation deployments with upgradeable 1GbE, 10 GbE or 40 GbE uplink modules. The switch also makes a suitable data center Top-of-Rack (ToR) solution, providing a ToR access-layer that can be upgraded to run on 10GbE/40GbE in the future with minimum costs and changes to cabling.

The modular design of the switch enables deployment of additional services such as high-performance IPsec encryption to meet increasing compliance and data security requirements.
Up to 3 uplink modules with 4 x 1 GbE, 4 x 10 GbE, or 1 x 40 GbE ports
40 GbE standards-based stacking links – no proprietary cables needed
PoE/PoE+/PoH (95W) to power video surveillance, VDI terminals, and HD displays
Expansion slots accept modules with different uplink speeds and services
Site-to-site IPsec VPN service module eliminates dedicated encryption devices
Programmable hardware technology, enabling more features to be added to IPsec VPN deployments
Suite B algorithms and support for 128-bit and 256-bit AES
10 Gbps throughput per service module
Up to 12 switches per stack
Up to 10km between stacked switches
Stacking connectivity through open standard SFP+ or QSFP+ ports – no special cables needed
Stack level ISSU for continuous operations
Works seamlessly with RUCKUS Wi-Fi access points
RUCKUS SmartZone and RUCKUS Cloud support delivers unified wired & wireless management
Your web browser (Internet Explorer 11 or lower) is out of date and the functions below will not work with Internet Explorer.
Update your browser for more security, speed, functionality and experience on this site.
Specifications for RUCKUS ICX 7450 Switches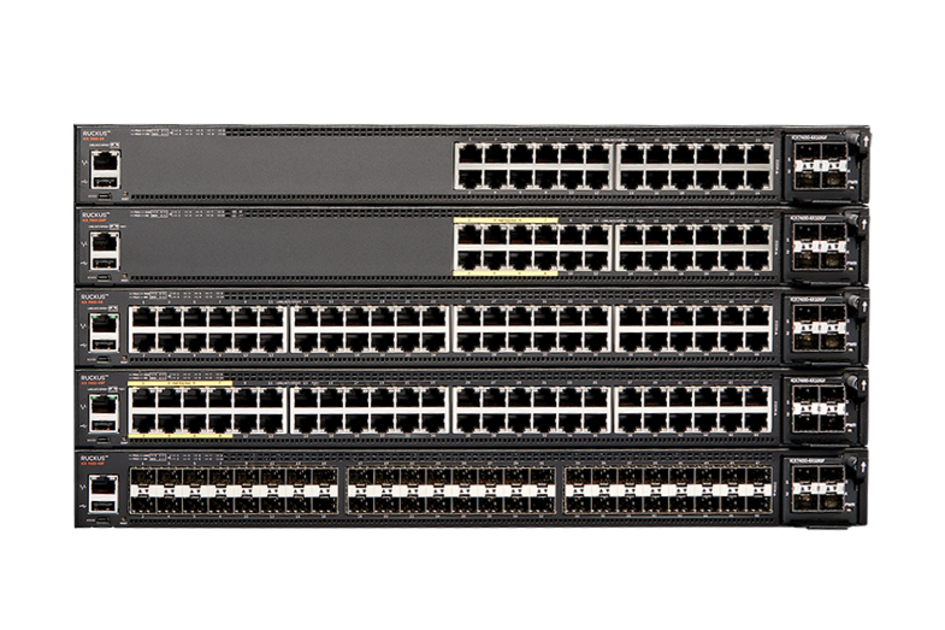 Product Classification
| | |
| --- | --- |
| Regional Availability | Asia | Australia/New Zealand | EMEA | Latin America | North America |
| Product Type | Ethernet switch |
| Product Brand | RUCKUS® |
General Specifications
| | |
| --- | --- |
| Switching Capacity, maximum | 336 Gb/s |
| 1 GbE RJ45 Ports, quantity, maximum | 48 |
| 1 GbE SFP Ports, quantity, maximum | 48 |
| 10 GbE SFP+ Ports, quantity, maximum | 12 |
| 10 GbE RJ45 Ports, quantity, maximum | 12 |
| 40 GbE QSFP Ports, quantity, maximum | 3 |
| PoE Power Budget, maximum | 1500 W |
| Switches per Stack, maximum | 12 |
| Aggregate Stack Bandwidth, maximum | 960 Gb/s |
| PoE/PoE+ | Yes |
| Stacking | Yes |
| sFlow | Yes |
| Layer 3 (STATIC, RIP, OSPF) | Yes |
| OpenFlow with Hybrid Port Mode | Yes |
| Campus Fabric Technology | Yes |
| Redundant Power Option | Yes |
| Hot Swap Internal Power Supplies & Fans | Yes |
| 802.3bt2 (90 W PoE Power per Port) | Yes |
| VRF | Yes |
| EEE (Energy Efficient Ethernet) | Yes |
| IPsec VPN, with service module | Yes |
| MACsec | Yes |
| BGP | Yes |
| Reversible Airflow Option | Yes |
Product Downloads and Links
Related Resources
Technical Publication
Warranty