Meet RUCKUS®—Wi-Fi that thrives on stress
Which Wi-Fi 6 APs perform best under pressure? An independent Packet6 test reveals that RUCKUS® Wi-Fi 6 delivers where others don't. The RUCKUS AP was the only AP that met enterprise-grade service levels in a real-world, high-density environment. And it didn't stop there.
From connecting and streaming to downloading and troubleshooting, RUCKUS rises to the occasion to deliver exceptional experiences—for every user.
Deliver a great user experience
Adapt more users, devices and traffic
Meet the needs of every client application
Handle challenging environments stress-free
Keep your network humming
Measure and meet SLAs
Accelerate troubleshooting
Use artificial intelligence (AI)/machine learning (ML) to identify and prioritize incidents
Manage simpler
One user interface for your converged, multi-site network
Comprehensive network visibility
AI/ML-powered analytics reduce your burden
Discover the wireless that passes the test
See how Wi-Fi should work
Video
RUCKUS Wi-Fi 6 APs rise to meet enterprise demands every day, for every user.
Learn how RUCKUS outperforms under real-world demands
Report
In a recent real-world stress test, a cloud-managed RUCKUS R750 Wi-Fi 6 Access Point stood up to the pressure like no other.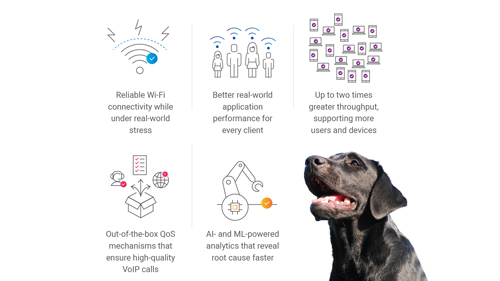 See why RUCKUS networks simplify life for IT
Infographic
Strong performance, stress-free connectivity and powerful troubleshooting put RUCKUS Wi-Fi ahead of the pack.
Speak with a CommScope expert about how you can build a network that exceeds expectations and adapts to twists and turns with Wi-Fi that works.
Contact us