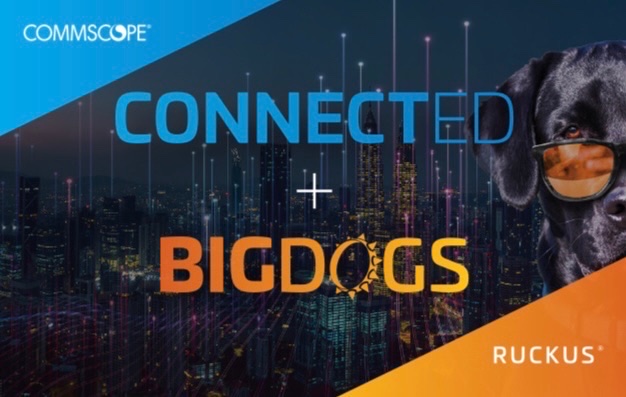 At the respective CommScope CONNECTed and RUCKUS BIGDOGS events, company insiders introduced new solutions, detailed technology roadmaps, and offered partners new ways to build markets and revenues while featured speakers gave their insights about team building, negotiating, and other topics. At these events, some 800 partners and associates from 13 countries gathered to hear 15 main stage speakers, attended 24 breakout sessions, and viewed 36 exhibits.
Here are the top seven highlights from the conferences:
RUCKUS rebranded the RUCKUS business as Ruckus Networks and unveiled its new logo during BIGDOGS

event

CommScope introduced Propel, a high-speed fiber platform designed to help data center managers respond to the exponential increase in demand for computing power. Propel encompasses the industry's first Multifiber Push-On (MPO) 16-fiber platform
RUCKUS Networks enhanced its PartnerPro Program with a new certified tier that enables registered partners to move up and further distinguish themselves in the market by accessing additional tools and programs without having to meet the revenue and skills requirements of elite partners
CommScope CEO, Chuck Treadway, outlined the future of CommScope and RUCKUS, laying out our strategic roadmaps as we work to develop what's next
RUCKUS Networks Business Unit leader, Bart Giordano, presented exciting new solutions developments and growth opportunities in addition to its refreshed PartnerPro Program
The Trackhouse Racing Team (including driver Daniel Suarez) was in the house. The team spoke about how to build a winning team – something Trackhouse has successfully done at Circuit of the Americas in the NASCAR Cup Series
Gala Cocktail Receptions and Awards Dinners capped both events, with nearly three dozen awards presented to outstanding distributors, product-specific solution providers, and vertical market solution providers
In all, our time in Austin was incredibly valuable as we met many of our international partners, answered questions, shared business expansion strategies, and explained how CommScope technologies are evolving to meet the needs of the next big markets.
BIG DOGS Wrap-up: New Brand - Bart Gioradano
BIG DOGS Wrap-up: Still Thriving - Eric Law
CONNECTed Wrap-up Infrastructure Market - Ernie Pickens