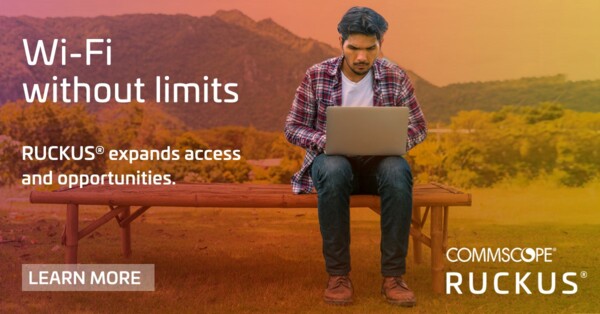 Fast, reliable internet is as essential as electricity and water. Residents in many U.S. communities, however, have inadequate or no connectivity. The digital divide is greatest in rural and economically disadvantaged areas, where high-speed broadband typically isn't available or isn't financially feasible for those who need access the most.
CommScope RUCKUS® partnered with SmartWAVE Technologies and Insight Enterprises to bring connectivity to Hidalgo County, Texas, where one-third of families live below the poverty line. The project included deploying a smart mesh network with 3,400 RUCKUS outdoor access points (APs).
Thanks to this initiative, the county now has the largest free public Wi-Fi network in the U.S., encompassing approximately 20 square miles of coverage. The network provides access to more than 30,000 residents, including students and remote workers.
We caught up with Al Brown, president and CEO of SmartWAVE Technologies, to discuss the project and his company's work with RUCKUS.
Why did you choose RUCKUS as your partner in Hidalgo County?
We selected RUCKUS because of our success with their products. Their outdoor APs are an ideal fit. They're very cost-effective, which means we can cover more communities with less money. Using the CommScope RUCKUS smart mesh network allowed for far fewer APs than is possible with other solutions.
SmartWAVE focuses on each of these projects with regards to return on connectivity. If we can identify solutions using less equipment and less power for the network, leveraging existing municipal-owned assets and infrastructures, the communities will maximize their return on every dollar spent for connectivity. One example is where we can power RUCKUS APs from the photocell adapters on streetlights, rather than having to do electrical remediation, which would add to project costs.
In addition, CommScope's RUCKUS portfolio includes several types of outdoor APs, which provides a lot more flexibility when you're designing an outdoor wireless network. We're able to match the APs to the specific environment.
What are some other benefits of RUCKUS outdoor Wi-Fi solutions?
The small footprint of the RUCKUS APs makes them aesthetically pleasing and helps protect the structural integrity of the assets they're being mounted to. Another benefit is that the antennas are internal to the enclosure, so they take up about half of the surface area as competitive solutions.
This also eliminates the needs and requirements for weatherproofing antenna connectors, which leads to higher susceptibility for future environmental-related problems and will increase maintenance costs.
What other CommScope RUCKUS technologies did you use for this project?
We use RUCKUS SmartCell Insight (SCI) software virtualized in our own cloud. The software provides valuable intelligence about the Wi-Fi network's health, operation and performance. It also provides us with key statistics regarding client counts and amount of data transferred, validating the need for connectivity within the community.
Were you able to optimize existing infrastructure in Hidalgo County?
Yes, we did. The majority of the assets were existing streetlights and utility poles. We also used existing water tanks, towers and building rooftops in the area. Where we didn't have access to existing infrastructure, we installed towers to extend coverage. We always work with existing infrastructure as much as possible to minimize project costs.
Did you encounter any challenges?
We had one minor issue during the permitting process for the towers in one city. It took a long time for the city to review the permit and they declined it. As a result, we revised the design to use a commercial tower in the area. It didn't cause significant delays and we were able to work around it.
What would you tell other communities that are considering outdoor Wi-Fi projects?
I think it's important to understand there's a certain process that you have to go through in designing and deploying these networks. It's not like installing Wi-Fi inside your home or a school. It requires coordination with many groups, including permitting authorities, public works departments, utility companies and transportation departments. It's a lot more complicated working in an outdoor environment.
What's it like to partner with the CommScope RUCKUS team?
We have very good relationships with them—from the C-level to the product management, engineering and support teams. We always have access to support when we need it. They're extremely responsive and they do a fantastic job.
For more information, visit Connecting the Disconnected.
Additional resources: