Q4 2022 "Channel SE of the Quarter"
Q4 2022 "Channel SE of the Quarter"
July 7, 2022
RUCKUS System Engineers face many challenges in their field of work. Arguably, the toughest choice is nominating just one member of the RUCKUS Technical Family for the Channel SE of the Quarter Award! Our Technical Community is rich in talented, passionate Engineers, with expert level knowledge and skillsets. To be recognized for RUCKUS Technical Excellence is a tremendous badge of honour, a peer recognized distinction of outstanding skills and personal qualities.
Our warmest congratulations to the Q4 2022 Channel SE Award Recipients for their outstanding career achievements!
Q4 2022 North America Channel SE of the Quarter
Ryan has helped to grow RUCKUS into the dominant networking vendor in many parts of Texas. Most recently, Ryan was instrumental in winning over $500k in switching from lithium battery manufacturer, Microvas. His knowledge of RUCKUS ICX Switching products and technical acumen provided the winning formula in this deal. Ryan was involved in many other wins in 2022 as well.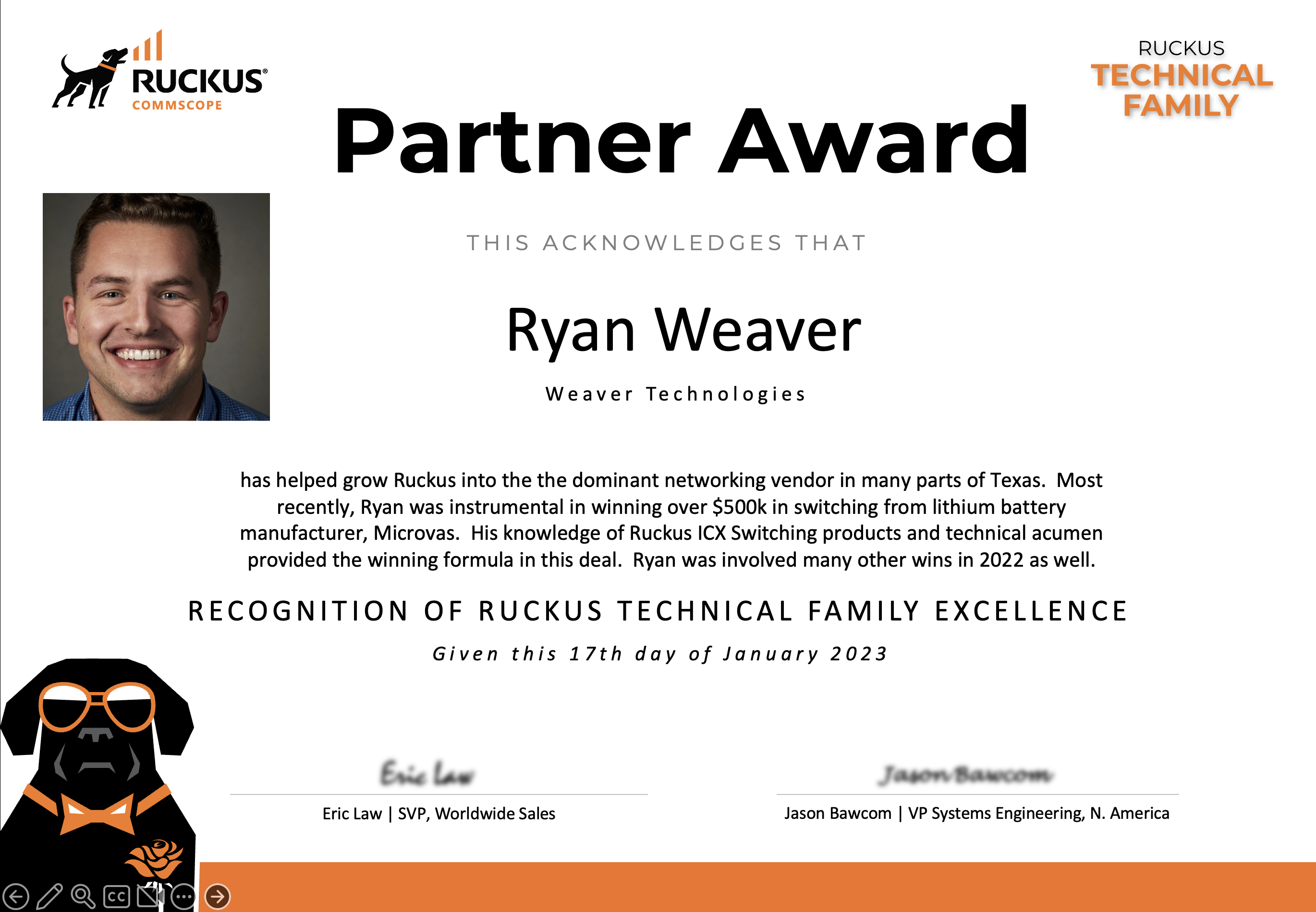 Q4 2022 APAC Channel SE of the Quarter
Murali Krishna B, Zen Exim Pvt Ltd
Murali Krishna has been a Ruckus Evangelist for over a decade now and is widely accepted among the partner community as an SME in Ruckus Products and the Go-To Man for any Pre-Sales support on RUCKUS. Murali has worked on multiple big projects, acting as Cloudpath SME and Wireless Security expert. He is excellent at troubleshooting issues of any kind, often supporting his colleagues in the field.
Q4 2022 CALA Channel SE of the Quarter
Manuel Quesada Oquendo, Datacom Costa Rica
As recognition for systems engineering presales support at Datacom Costa Rica. Supporting strategic opportunities at the University of Costa Rica; Manuel was very key in RUCKUS solution selling and competitive positioning against other vendors offering Wi-Fi connectivity; also persistent in promoting the value added that Cloudpath brings into the secure onboarding & connectivity for students and administrative personnel across the campus. This achievement is a testament to the great partnership and dedication to win with RUCKUS in the market during Q4-2022!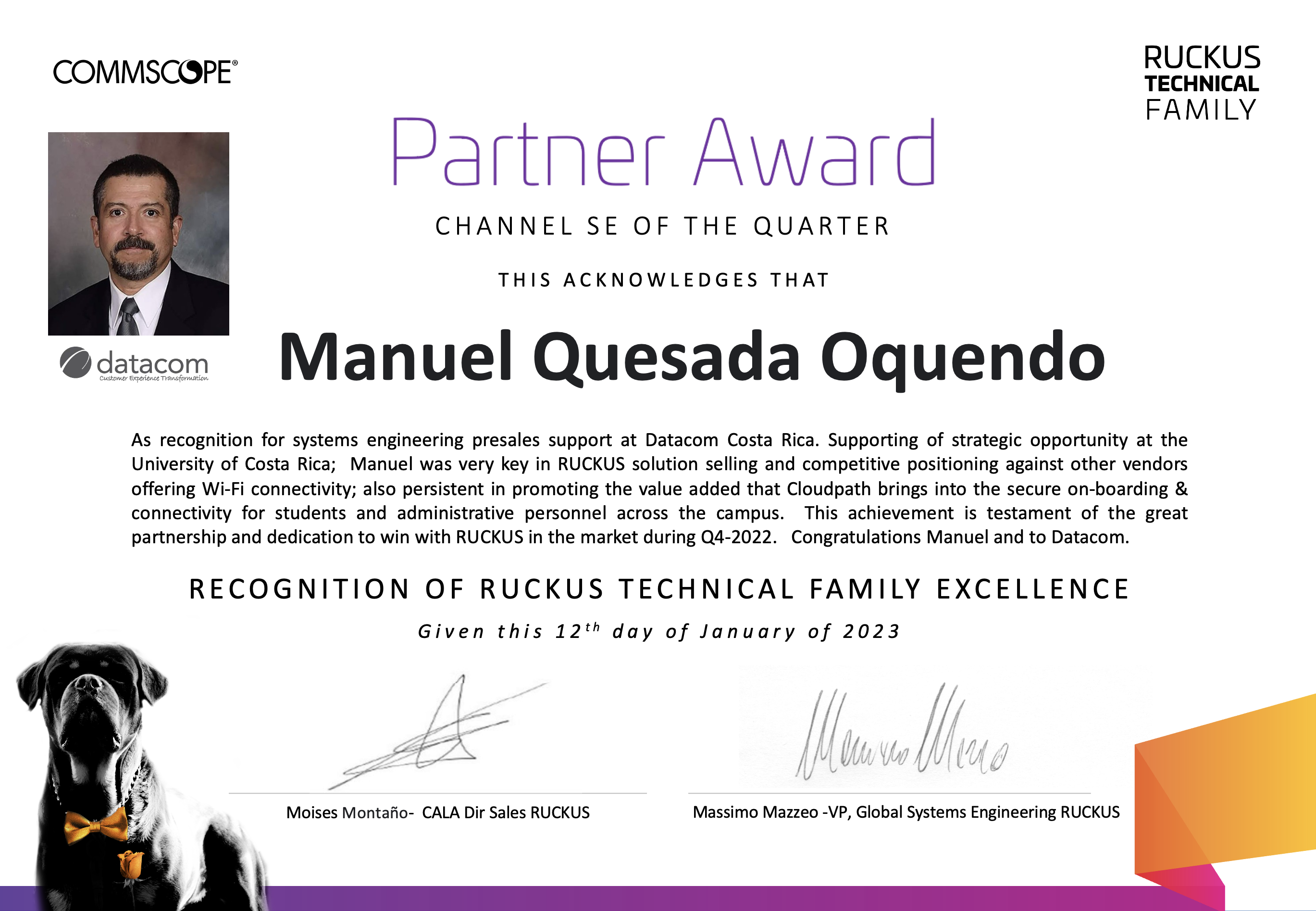 Q4 2022 EMEA Channel SE of the Quarter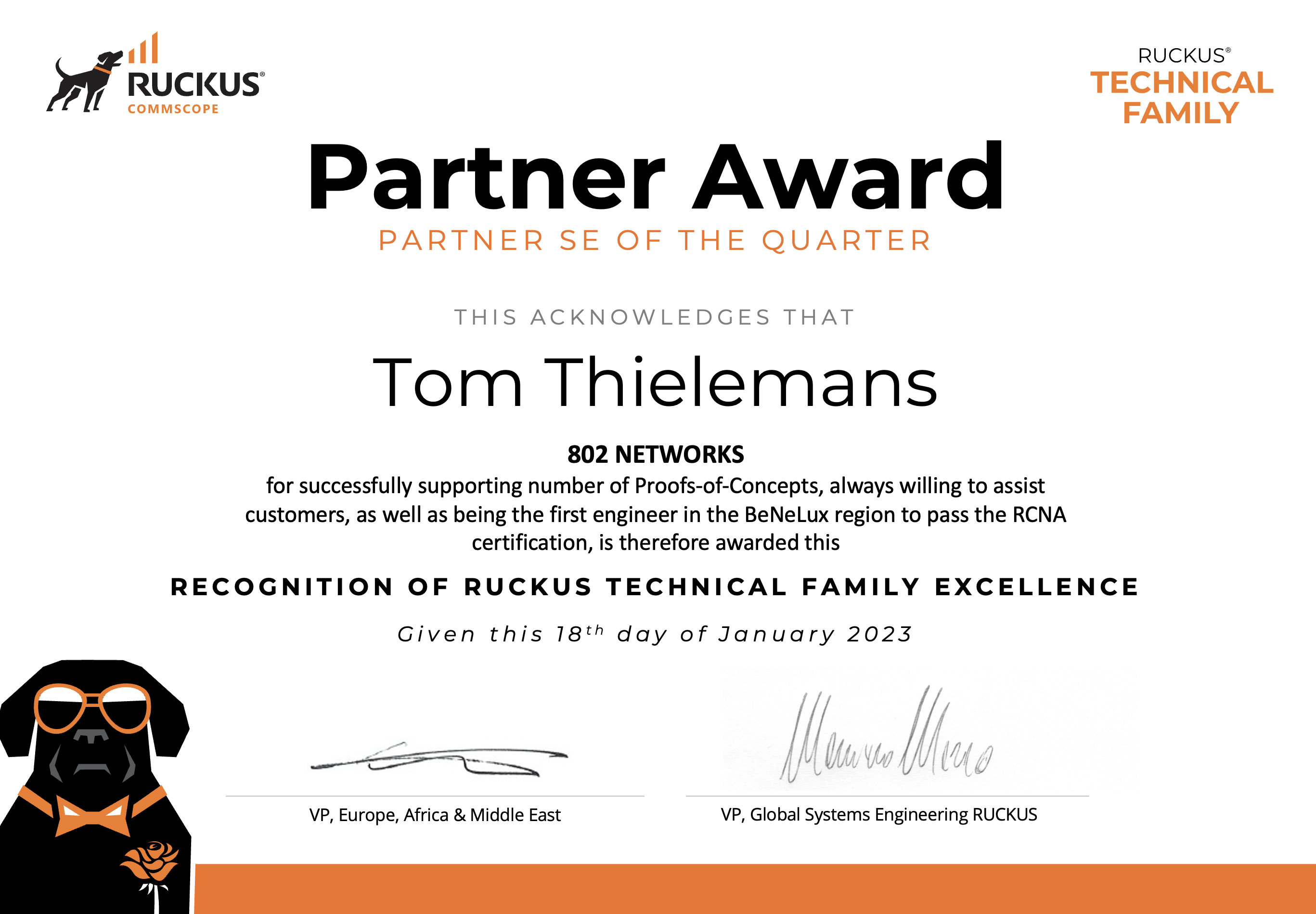 Tom Thielemans, 802 NETWORKS
Tom is one of the most experienced engineers for the Belux region. With his support on several POCs and always willing to assist customers, he is a keystone for our partner landscape. Tom recently passed the RCNA certification and was the first engineer within the Benelux region to achieve this.
Tom, congratulations!
Congratulations!!!