RUCKUS R560 Indoor Access Point
RUCKUS R560 Indoor Access Point Features
Bandwidth-hungry ultra-high definition video, virtual reality, Internet of Things (IoT). An explosion of new devices and content. With these kinds of demands, organization in every industry need more from their Wi-Fi. But with hundreds of devices and nonstop wireless noise and interference, busy indoor spaces can make challenging wireless environments.
Industry Leading Performance: With support for the latest Wi-Fi 6E standard, the R560 takes advantage of the 6 GHz band via three dedicated radios for up to 4.7 Gbps aggregated max throughput Improving device performance by enabling more simultaneous device connections.
Smart Antenna Technology: For greater speed, fewer errors, and instant bandwidth delivery, RUCKUS BeamFlex+ patented technology offers first-of-its-kind smart antenna technology that maximizes signal coverage, throughput, and network capacity. It further increases MIMO diversity gain and maximize spatial multiplexing potential—at minimal cost.
Multigigabit wired backhaul: Optimized multi-gigabit Wi-Fi performance delivered using a built-in 5GbE/2.5GbE Ethernet port to connect to multi-gigabit switches and eliminate backhaul capacity bottlenecks
Reduced Interference - RUCKUS ChannelFly patented dynamic channel technology uses machine learning to automatically find the least congested channels. You always get the highest throughput the band can support. Additionally, the use of the 6Ghz band triples the spectrum available for Wi-Fi significantly reducing interference
Hi-Performance 6 GHz Mesh Networking: RUCKUS Smart Mesh reduces complexity and cabling expenses with the ability to dynamically create self-forming, self-healing mesh networks between APs wirelessly. The RUCKUS R560 takes advantage of both the 5Ghz and the 6Ghz band to create Smart Mesh links between APs inherently benefiting from the high performance and low interference offered in the 6Ghz band
Converged Access Point: Eliminate siloed wireless networks with a unified AP that augments Wi-Fi with onboard BLE/Zigbee radio and offer the option to add support for future IoT technologies via the USB port. The RUCKUS IoT Suite accelerates the deployment of IoT networks through the reuse of existing LAN and WLAN infrastructure, thus reducing cost, and increasing value.
Multiple management options: Manage the R560 with on premise physical/virtual appliances, cloud, and control auto-provisioning for faster deployment, seamless firmware upgrades and advanced network Analytics like all RUCKUS APs.
Enhanced Security: Supports the latest Wi-Fi security standard, WPA3, for enhanced protection from man-in-the-middle attacks. Adds the power of DPSK to WPA3/SAE combining enhanced security with the flexibility and ease of use of dynamic passphrase to secure network access.
Specifications for RUCKUS R560 Indoor Access Point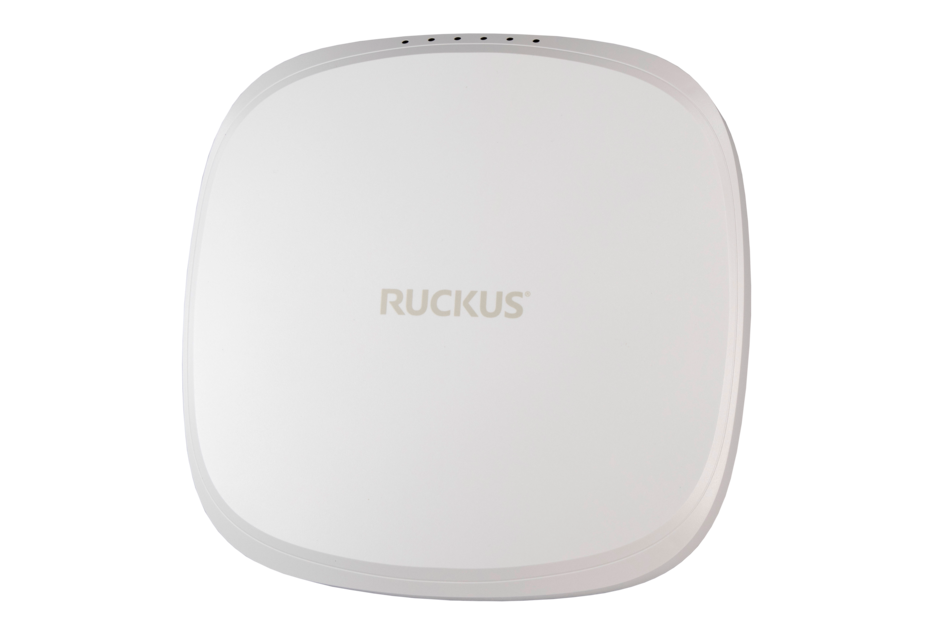 Product Classification
| | |
| --- | --- |
| Regional Availability | Asia | Australia/New Zealand | EMEA | Latin America | North America |
| Product Type | Indoor access point |
| Product Brand | RUCKUS® |
General Specifications
| | |
| --- | --- |
| Antenna Patterns, per band | 4000+ |
| Antenna Gain | Up to 4 dBi |
| BeamFlex | Yes |
| ChannelFly | Yes |
| Concurrent Users | 1536 |
| Controller Support | RUCKUS Cloud™ | RUCKUS SmartZone | Standalone |
| Ethernet Ports | 1 x 1 / 2.5 / 5 GbE | 1 x 1 GbE |
| IoT Support | IoT Onboard |
| Number of Radios | Tri-Radio |
| PD-MRC | Yes |
| PHY Rate at 2.4 GHz, maximum | 591 Mb/s |
| PHY Rate at 5 GHz, maximum | 1237 Mb/s |
| PHY Rate at 6 GHz, maximum | 2882 Mb/s |
| Combined Max PHY Rate | 4710 Mb/s |
| Radio Chains and Streams | 2x2:2 |
| Rx Sensitivity at 2.4 GHz | -94 dBm |
| Rx Sensitivity at 5 GHz | -94 dBm |
| Rx Sensitivity at 6 GHz | -94 dBm |
| SmartMesh | Yes |
| USB | USB 2.0 |
| Venue Type | Education | Hospitality | Office/Retail | Public Venue |
| Venue Sub-Type | Convention Floor | Lecture Hall | Transit Stations | Venue Common Spaces |
| Wi-Fi Bands Supported | 2.4 GHz | 5 GHz | 6 GHz |
| Wi-Fi Generation | Wi-Fi 6E |
| Wi-Fi Interface Standard | IEEE 802.11a/b/g/n/ac/ax |
Environmental Specifications
| | |
| --- | --- |
| Operating Temperature | 0 °C to +50 °C (+32 °F to +122 °F) |
Product Downloads and Links
Related Resources
Product Selection Guide
Technical Publication
Warranty