In Part 1 of this blog post I described what Network as a Service (NaaS) is, and why it's forecasted to be one of the fastest growing areas in networking. In this section, I am going to give an overview of our RUCKUS NaaS program.
Priorities for RUCKUS NaaS: (1) Flexibility and openness
The vision for Enterprise NaaS is to enable enterprises to transition their on-site (LAN and WAN) network from a capital purchase which they own and operate, to a service which they consume.
There are also shorter term 'crossing the chasm' drivers for an enterprise to adopt sub-sets of the full NaaS vision. Perhaps an enterprise finds it burdensome or expensive to access capital and so wants to move to subscription payment terms; or alternatively, for reasons like lack of expertise in a new technology, the enterprise needs to move quickly or to refocus its own team on business transformation. Any of these could be reasons why an organization might want to outsource life-cycle operations to a team of experts.
Because enterprises have such different drivers for NaaS, RUCKUS believes NaaS programs must be open and flexible so as to adapt to individual enterprise's priorities and situation.
Priorities for RUCKUS NaaS: (2) Channel Partner Alignment
We are a partner first company, so our other major principle when putting together our NaaS program is to leverage and empower our channel partners. We strongly believe that NaaS makes our channel partners more important to their customers as they move from trusted advisors to partners delivering day-to-day network services. In fact, the emerging NaaS model requires Channel Partners, with their local expertise, and often their ability to get onsite rapidly, to play a key role in delivering full lifecycle services.
Consequently, we are architecting our NaaS programs from the get-go to leverage the strengths our Channel Partners bring. We want our channel to be able to sell NaaS without major changes in the way they do business and we believe the strength of our channel will differentiate our NaaS program.
With these two principles in mind, let's review our NaaS Program.
Enterprise NaaS, Enterprise Infrastructure As A Service and Managed Services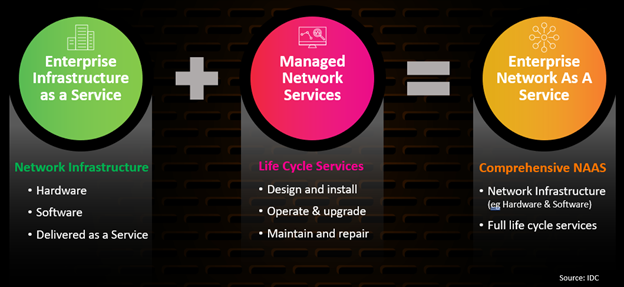 Our NaaS program comprises two major elements
Enterprise Infrastructure as a Service (Enterprise IaaS) enables a partner and customer to jointly design a network, using a mix of hardware, software and services from RUCKUS and our partners. Working with our partners, we then provide this network on a subscription basis, monthly or otherwise. At the end of the initial subscription period, which can be as short as one year or as long as 5 years, the customer can choose to extend or refresh the network.

Allowing our customers to select from our full price list, our program provides a very flexible way of their getting the network they need without a large upfront capital expense. And for our partners, this Enterprise IaaS allows them to provide an important extra service, without changing the way they do business or having to go out to the capital markets themselves. This is especially attractive since our partners' services can be included in the subscription.


The RUCKUS Managed Services program enables customers to outsource any or all of their lifecycle operations to RUCKUS and our partners. The core service RUCKUS provides is 24/7 network monitoring and remote support, but, working with our partners, we also participate in network design and together provide the other life cycle services including installation and break/fix.

RUCKUS has years of experience successfully offering managed services white labelled via partners. Many of the largest Service Providers in the United States already take advantage of our 24/7 NOC and AI driven tech stack. Now we are offering these same capabilities to our enterprise partners.

Our RUCKUS Managed Services program takes advantage of RUCKUS and Commscope's broad expertise in networking. Our experts are equally familiar with designing and operating WiFi, Wired, IOT and 4G/5G technologies. And our unified technical platform complements these forms of access with the security, policy and manageability required in a modern network. Customers may start using RUCKUS Managed Services to help them deploy a single type of network – maybe end-to-end 4G/5G for manufacturing – but after that is done, it is very easy to add new forms of access onto the base platform.

For our enterprise customers, our Managed Services enable them:


to deploy complex new technologies without adding new experts to their staff or waiting through a long training and deployment interval
to redeploy their own staff towards projects where inside knowledge and expertise are critical to driving their business
to leverage our experience and tech stack to deploy, easily and quickly, additional geographies or new forms of network access, as their needs develop
For our partners, our Managed Network Services give them another tool to serve their clients.
They retain complete control of their own businesses, using our Managed Services, in combination with their own services to create best-in-class solutions for each customer
They will remain the trusted advisor to their customers in creating solutions and, in conjunction with the customer, they will choose when to use our Managed Network Service offerings and how to combine them with services they provide
As I mentioned above, today we provide a lot of Managed Services white labelled under SP brands. Should our enterprise partners wish, they can take advantage of our white label capability



RUCKUS NaaS enables our customers to buy network services taking advantage of SLA guarantees to lock in service quality. We have this program ready. We expect more and more customers to move directly to this end point. However, we also want to offer our customers a path flexible enough so they can focus on their immediate problems whilst understanding they can evolve to full NaaS as their needs and comfort grow
Conclusion
Like many, RUCKUS is convinced that NaaS is going to be an increasingly important part of networking going forward. It's an area where our history and experience equip us to lead.
A major aspect of leadership, and how we are different, lies in tailoring our NaaS programs to the immediate needs of both our enterprise customers and our channel partners. We have applied all our experience to architecting a program which meets our customers where they are today.
It's important to have vision. But we have also applied our experience to give the flexibility enterprises need as they begin their move to NaaS.
And we also know we need help our channel partners negotiate the road to NaaS. Our channel partners are going to find RUCKUS NaaS helps grow their business and make it more predictable. We are committed to helping them succeed through this transition.