902-0700-0000 RUCKUS Stadium Enclosure
902-0700-0000 RUCKUS Stadium Enclosure Features
Stadiums and arenas are amongst the most difficult locations to deploy Wi-Fi, mostly due to the need for very high performance and very high density. Nothing ruins more a fan experience than bad Wi-Fi connectivity. Whether, streaming live experience to social media, purchasing merchandise, checking players' statistics, every fan wants rock-solid high-performance Wi-Fi connectivity.
RUCKUS offers a broad range of sports arenas Wi-Fi solutions including indoor and outdoor APs delivering, high capacity and reliable connectivity for all types of venues.
RUCKUS under seat stadium enclosure protects RUCKUS indoor APs mounted beneath stadium seats for high density Wi-Fi deployments in stadiums and large public venues. The enclosure is large enough to fit most RUCKUS APs (up to the R750 size), yet it is designed to fit under stadium seats without impeding foot space.
The enclosure is comprised of a heavy-duty cast aluminum bottom and durable polycarbonate top cover with a protective gasket for indoor/outdoor under seat installation. The enclosure is purposely designed to be transparent to RF signals and protects from liquid/water projected from pressure washer jets/hoses.
The enclosure can be floor mounted or wall mounted with a 45° or 35° tilt using the included mounting bracket. A second mounting bracket is available as an option for flat mounting (0° tilt)
The enclosure does not impede the thermal performance of the enclosed AP

Key Benefits Include:
· Enable RUCKUS indoor APs to be deployed under seats in outdoor stadiums.
· Expands Wi-Fi deployment options for stadiums.
· Enable higher AP density and better Wi-Fi coverage for sport fans.
· Reduced cost of Wi-Fi coverage in stadiums.

Specifications Highlights:
· Polycarbonate top cover.
· Cast aluminum bottom cover facilitates heat dissipation.
· Interior AP mounting bracket can accommodate AP size up to R750.
· Protective gasket between top and bottom cover.
· ½ inch NPT (national pipe thread) holes with plugs, gaskets and locknuts on opposite sides of enclosure to accommodate power/data cables.
· M6 threaded ground points inside and outside w/ symbols.
· 35/45-degree tilt brackets included, Optional horizontal 0° tilt mounting brackets available.
· Mounting provision and space allocation for AP USB GPS dongle.
Specifications for 902-0700-0000 RUCKUS Stadium Enclosure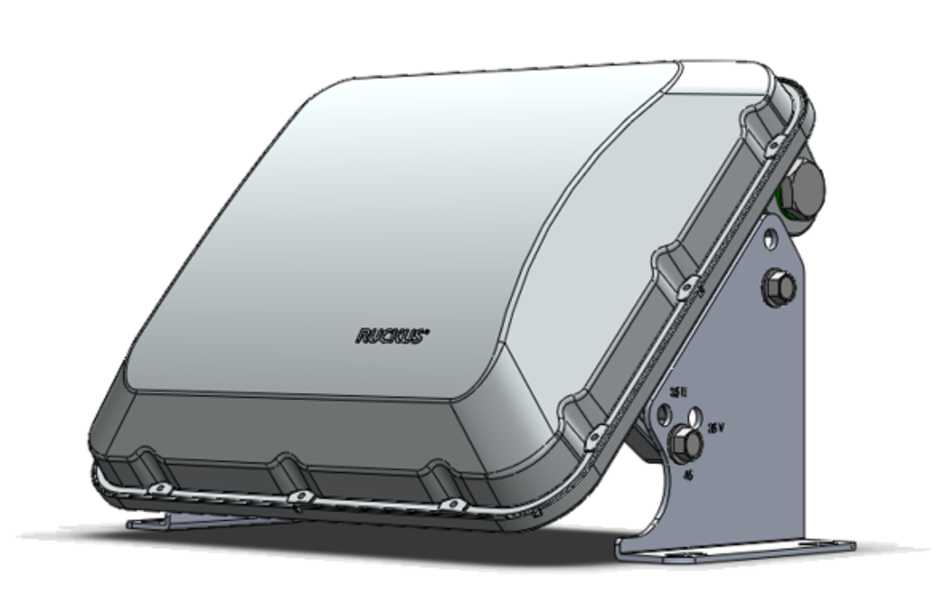 Product Classification
| | |
| --- | --- |
| Regional Availability | Asia | Australia/New Zealand | EMEA | Latin America | North America |
| Product Type | Enclosure |
| Product Brand | RUCKUS® |
General Specifications
| | |
| --- | --- |
| Application | Under seat stadium mount |
| Connector Location | 1/2 inch NPT holes on opposite sides of enclosure |
| Mounting | Under seat, vertically, horizontally, 0°, 35° or 45° tilt |
| Note | 6 GHz band only supported for indoor use until availability of FCC AFC service |
| Supported Access Points | R350 | R550 | R560 | R650 | R750 |
| Wi-Fi Band | 2.4 GHz | 5 GHz | 6 GHz |
Dimensions
| | |
| --- | --- |
| System Dimensions | 284.4 mm × 310.0 mm × 114.5 mm |
Environmental Specifications
| | |
| --- | --- |
| Operating Temperature | Defined by enclosed AP termal specifications |
Packaging and Weights
| | |
| --- | --- |
| Weight, net | 2810 g | 6.195 lb |
Product Downloads and Links
Related Resources
Warranty