Bring AI-powered management to your converged network
RUCKUS One™ simplifies the complexity that encumbers modern networks. Easy to use, easy to expand, with flexible configuration that allows you to manage and optimize multi-access networks simply and securely.
Incorporating state-of-the-art AI and patented machine learning (ML) algorithms, RUCKUS One enables IT to react quickly to incidents and prevent them from becoming service-affecting problems. RUCKUS One even classifies issues by severity, so IT knows where to focus first. Unplanned downtime drops, service levels rise. AI-generated recommendations within RUCKUS One optimize your network automatically, improving key performance indicators (KPIs) and, ultimately, delivering the best end-user experience.
With RUCKUS One, even a lean IT team can easily provision, manage, optimize and troubleshoot a high-performance, multi-access network through a single web dashboard or native mobile application.
RUCKUS One product overview
Take a quick walkthrough of key features in RUCKUS One. See how an AI-driven network management as-a-service platform can enable you to easily manage a converged network, troubleshoot faster and deliver exceptional user experiences.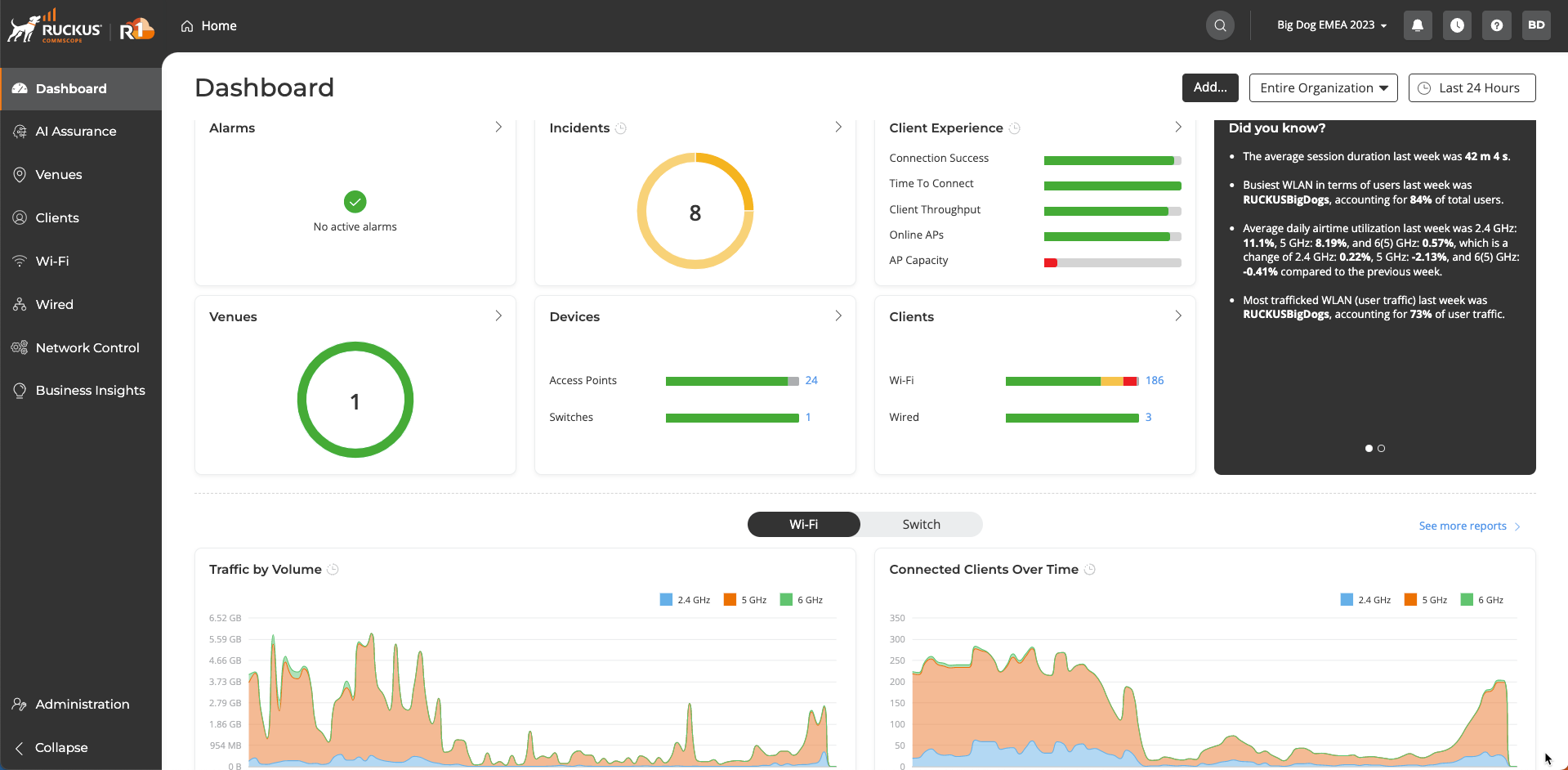 Do I need a cloud-managed network solution?
This video will help you understand how to untangle complex networks, derive efficiency, boost return on investment and delight users—including your own staff. And it will explain why your business may benefit from a cloud-managed network to support your business strategies.
Are cloud-managed networks right for you?
The dynamic and increasingly unpredictable nature of today's networks is creating new blind spots and makes it harder and harder to deliver consistent performance. Join this webinar to understand the pros and cons of cloud-based management, whether it is the right fit for your organization, and which features you should prioritize.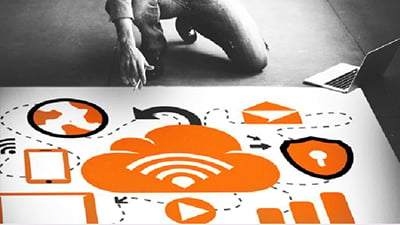 RUCKUS® outperforms four competing Wi-Fi 6 access points in independently validated Wi-Fi stress test
Packet6 recently validated a series of "out-of-the-box" performance tests that measured wireless access point capabilities tested in a real-world, high client-density environment. See how RUCKUS performed against their competition.
Five great reasons you should adopt cloud-managed networking
Enterprise networks are becoming too complex for many IT teams to manage properly. With limited staff and budget, organizations seeking to manage a multi-site network need to work more efficiently if they're to keep up and ensure exceptional experiences for their users. This infographic presents five reasons to adopt cloud-managed networking to help you do just that.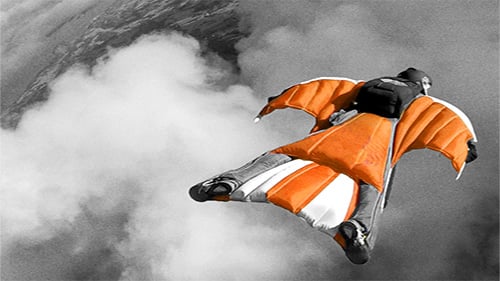 What customers are saying about RUCKUS One
Bonneville Joint School District
Bonneville schools partnered with Pine Cove Consulting and selected a RUCKUS network for a refresh of their network that services 14,000+ students across 26 unique buildings. Now students, teachers and faculty enjoy reliable and secure internet access.
Watch video
Herricks School District
Herricks School District gets network capabilities beyond expectations with RUCKUS Wi-Fi and switching. This case study features RUCKUS Cloud, indoor and outdoor APs, ICX switches and Cloudpath® Enrollment System.
Del Mar College
"By providing high-performance, stable coverage across the campus, our wireless network is helping to break down some of the constraints of traditional classrooms. That's one of the most important things we could have imagined accomplishing with our new Wi-Fi infrastructure."
August Alfonso, VP of Facilities Operations and Chief Information Officer
Schoenen Torfs stores
"It was very important to us that the Wi-Fi networks were easy to manage, always stable, and quickly rolled out in all of our 75+ stores. With just one click, we can now see where the access point is, and we can easily onboard a new access point ourselves. That was the reason why we chose VanRoey and RUCKUS."
Raf de Leu, IT Manager
Related Content
RUCKUS One data sheet
Our AI-enabled converged network management-as-a-service platform simplifies deployment, monitoring and management of your single-site or geographically distributed multi-site wired and wireless network.
RUCKUS One compatibility
RUCKUS One, with its extensive compatibility, supports a diverse assortment of our ICX switches and Wi-Fi access points.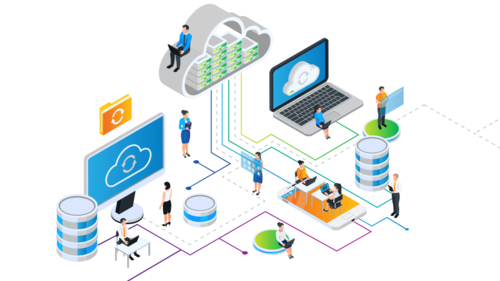 Top 10 must-ask questions about cloud-managed networking
Not all cloud-managed networking platforms are created equal. It pays to ask just the right questions to make sure your cloud-managed networks keep your end users happy by delivering them an amazing experience while meeting service-level agreements your business demands.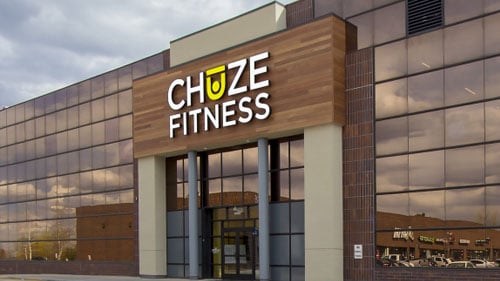 Chuze Fitness ups its game with RUCKUS One (formerly RUCKUS Cloud)
Chuze Fitness management is well aware that, in today's digital age, reliable Wi-Fi is an essential service. Many customers like to stream music or videos as they work up a sweat. With that in mind, Chuze Fitness wanted to make sure their members have a first-rate experience with every visit—and that includes fast and reliable Wi-Fi.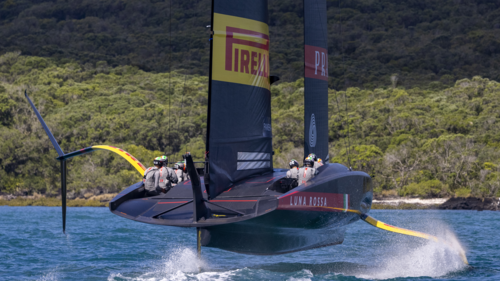 Luna Rossa Prada Pirelli team
To succeed in competitive sailboat racing, the Luna Rossa Prada Pirelli team needs unfailing Wi-Fi connection on land, sea and air. To achieve this, they've selected RUCKUS Wi-Fi equipment to connect their 75-foot-long AC75 racing yacht during the PRADA Cup and America's Cup.
The 21st Century Office Network Vol 1 – Era of Cloud Management
(English subtitles)
RUCKUS Wi-Fi 6 solutions provide patented smart antenna technology to support wide Wi-Fi coverage and multiple high-speed Wi-Fi network scenarios. With the cloud technology, an IT manager can eliminate the requirement of his own regular software maintenance as well as handling of rack management-related issues.
Watch video
Let our AI make your network run smoothly
Try our AI-driven RUCKUS Cloud FREE for 60 days when you're a qualified user who meets the terms and conditions.